Mani Bhavan, Mumbai
Address:
19, Laburnum Raod, Gamdevi
Mumbai-400 007, India
Contact:
+022- 23805864
E-mail:
info@gandhi-manibhavan.org
Website:
www.gandhi-manibhavan.org
Mani Bhavan, a modest two-storied building on the Laburnum Road in the comparatively quiet locality called Gamdevi, served as Gandhiji's Bombay head-quarters for about seventeen long and eventful years (1917-1934). It belonged to Shri Revashankar Jagjeevan Jhaveri, who was Gandhi's friend and a host during that period. It was from Mani Bhavan that Gandhi initiated Satyagraha against Rowlatt Act and propagated the causes of Swadeshi, Khadi and Hindu-Muslim Unity. In 1955 the building was dedicated as a memorial to Gandhiji and to the very important activities of great significance he initiated from that place.
Mani Bhavan has a story to tell as it housed Gandhiji occasionally during the times when he grew in stature and strength, from an agitator to a world figure by successfully introducing satyagraha (individual as well as mass) as a new and effective weapon to fight all evil and injustice.
Once you enter the place, there is a library with the statue of the Mahatma where people offer their tributes. Then a staircase dotted with Gandhi's pictures depicting his life leads visitors to the first floor which has a big photo gallery where photographs of his childhood till his assassination are displayed along with press clippings. The room that Gandhi used during his stay here is on the second floor – there is a glass partition and people can see through two of his spinning wheels, a book and a still preserved floor- bed. Right opposite the room there is a hall where photographs and paintings of his lifetime are on display.
Related Photographs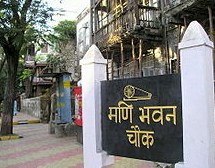 'Road to Mani Bhavan'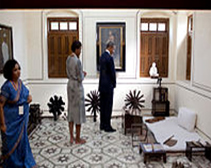 President Barack Obama & First Lady Michelle tour Gandhi's room at the Mani Bhavan
'Front gate of Mani Bhavan'