Gandhi Museum Madurai
Address:

Tamukkam,
Madurai-625 020,
Tamilnadu, India

Contact:
0452 2531060, 2522822
E-mail:

museumoffice@gmail.com

Website:
www.gandhimmm.org
The building that houses the Gandhi Memorial Museum, Madurai is the historic Tamukkam Palace belonging to Rani Mangammal of Nayak Dynasty built about 1670 A.D. It was in 1955 the palace with about 13 acres of land was gifted by the Tamil Nadu State Government to the All India Gandhi Smarak Nidhi for the purpose of housing Gandhi Memorial Museum. The Museum was inaugurated by Jawaharlal Nehru on 15 April 1959.
Among the exhibits at the Museum is part of the blood-stained garment worn by Gandhiji when he was assassinated by Nathuram Godse. Other exhibits in the Museum include a original letter written personally by Gandhi to Shri Narayanan Sathsangi of Devakottai. A congratulatory message sent by Gandhi to freedom fighter and poet Subramania Bharati is also preserved in this Museum. Yet another interesting letter is the one, written by the Mahatma to Adolf Hitler addressing him as 'Dear Friend'.
The Museum contains a 'Visual Biography of Bapuji' containing photos, paintings, sculptures, manuscripts, quotations and some of the selected photostat copies of many of the letters written by him.
Related Photographs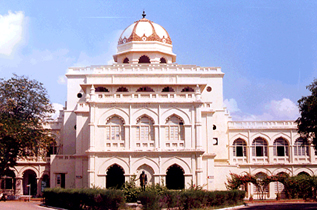 Building of the Museum
Statue of Gandhiji